A pharmacy-based adherence program
Health Literacy Australia (HLA) is based on the world's largest and most successful adherence program – AdherisHealth.
The AdherisHealth program captures approximately 60% of all scripts in the United States, which equates to over 2.2 billion scripts every year. With over 30,000 pharmacies, 40 retail chains and thousands of independents across the USA involved, AdherisHealth is by far the world's most extensive adherence program.
These direct to patient programs are proven to help patients adhere to their medications. The program features letter-based communication from the dispensing pharmacy, to the patient and timed to coincide with key decision times.
HLA is exclusively affiliated with AdherisHealth, which means we can draw upon their 20 years of invaluable experience to help Australian patients improve their medication knowledge and their wellbeing.
While HLA mirrors the AdherisHealth multi-touch-point framework, it's tailored to the Australian market. By creating a robust community pharmacy adherence program, we're aiming to improve the health of hundreds of thousands of patients. The 2014 pilot found that 72.5% of patients preferred letters to their home for this type of health information.
Why we work with Pharmacy:
Pharmacists are the most accessible and approachable healthcare professionals.

Most patients have more touch points with pharmacists than other healthcare professionals.

Pharmacists are highly trained to discuss medications and address adherence

Pharmacists are one of the most trusted professionals.
Respect for professions survey
(Roy Morgan Research)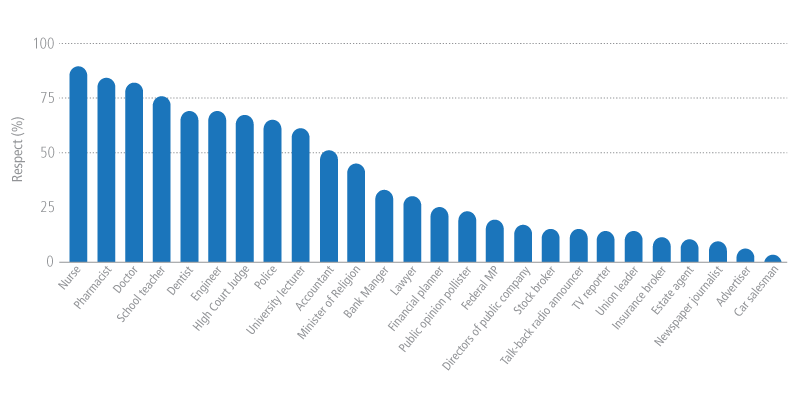 How does Health Literacy Australia work?
Health Literacy Australia works with your business to conduct a series of communications sent to patients on their local pharmacies behalf. The communications contain health information only not advertising material and the aim is to educate patients on their therapy, condition and adherence.
Pharmacists are able to sign patients up with their consent using the HLA simple patient registration portal. Once a patient is signed up there are no further steps required from the pharmacy. The HLA program will communicate to the patient where necessary.
The in store experience:
Patients visit their pharmacy and get their prescription filled. On collection of their prescription the patient consents to receive additional healthcare information from the new HLA program.
Using the HLA software, the pharmacist is able to easily sign the patient up to receive health communication. HLA then automatically accesses prescription records and prepares relevant communications to send to patients.
The HLA program will mail a welcome letter to the patient on behalf of the dispensing pharmacy, explaining the benefits of the service.
The software automatically prepares ongoing communications as per the program protocol ensure patients continue to receive letters timed to their prescription refill behaviour. This further encourages patients to stay on their medication.
The Health Literacy Australia program has been designed to comply with all Australian privacy regulations.